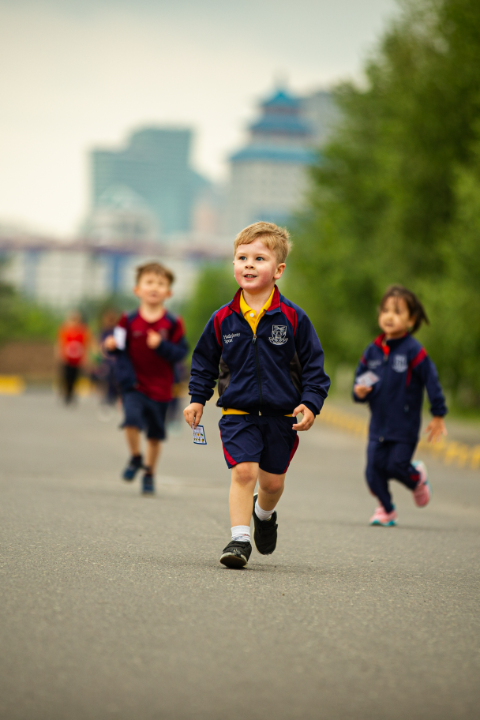 The Haileybury Mile is back
The Haileybury Mile is a beloved sporting event that takes place annually at the end of the academic year. Last week the PE department united pupils from different year groups. Young athletes from Kindergarten, Junior School and Senior School ran two laps of the internal road around the school.
Participating in the Haileybury Mile presented an opportunity for young learners to interact with other students in the school community. Moreover, sporting competitions provide the opportunity for pupils to represent their House.
We are proud to announce that all pupils performed exceptionally well in the competition. The Haileybury Mile proved to be a challenging activity that required students to showcase their perseverance and resilience, which are a part of the IB learner profile.
Many thanks to the PE department for organising this marvellous event. Please see below the Haileybury Mile Results.
Haileybury Mile Records
Year Group
Name
House

Year 1

Alidar D

Edmonstone

Sarah K

Attlee

Year 2

Mark O

Edmonstone

Sofia M

Bartle Frere

Year 3

Suleiman K

Kipling

Miya Y

Attlee

Year 4

Marat S

Bartle Frere

Isabel A

Bartle Frere

Year 5

Valentin L

Kipling

Charlotte L

Kipling

Year 6





Denis C

Edmonstone

Nursulu B

Kipling

Year 7




Samuel M

Attlee

Helena K

Edmonstone

Year 8





Joseph A

Attlee

Nazerke R

Attlee

Year 9





Nicholas S

Bartle Frere

Madina N

Bartle Frere