Erzhan Kabdykairov, a pupil of Haileybury Almaty and First Global Challenge winner, talks about the values of his generation.
'The world is changed. I feel it in the water. I feel it in the earth. I smell it in the air…' This is a quote from the extremely popular "Lord of the Rings" and it perfectly reflects the current state of affairs.
The world has changed and continues to change. Generations come and go; young people in the information age graduate from schools and universities and are ready to lead the way. But what can they do, what are they capable of? Designing robots is awesome! Working in VR is great! But does generation Z remember the precepts of our ancestors; does it agree to adopt knowledge or want to walk on untrodden path? Informburo.kz interviewed a typical representative of the information age. Erzhan Kabdykairov, 17 years old, will soon graduate from Haileybury Almaty. He is fond of robotics and is ready to talk about the values of his generation.
School for a day and for life
The people of the digital age are no longer even millennials, but still they have learned a lot from their parents and older friends. Let's take after-school provision for example. The modern generation studies a lot and does so not only during the lessons. Young people remain after classes in schools and perform additional tasks, read, watch, communicate, and relax. For example, after the lessons in Haileybury Erzhan stays with his classmates in the classrooms and laboratories of the STEM center (Science, Technology, Engineering, Mathematics), where they enhance their practical knowledge. They also take part in webinars, watch training videos on the Web and subscribe to popular public pages on social networks. Generation Z draws useful information from a wide variety of sources. Their capabilities are now expanded to a truly cosmic scale.
Before entering Haileybury Almaty, I studied at the NIS (Nazarbayev Intellectual School) of Physics and Mathematics for five years. I studied Computer Science, Mathematics and Physics in-depth.
Decision to enter Haileybury was driven by my plans for the future. The school provides excellent education and leadership skills. Learning is not as difficult as some may think. Although all the training is in English, you can easily get used to everything in a couple of days.
I study in the A Level program. This is a British certificate of secondary education. It was my own decision to choose Haileybury. I was fully supported by my parents. One year is left, and then I have to take exams.
I'm going to apply to one of the southern universities of the United States after graduation, but I can also choose the Ivy League. The US give a very good foundation on robotics. I'll graduate there and return to work here in Kazakhstan.
Robotics takes up a lot of time, and I often had to skip some lessons for this. I was caught and punished several times. I believe that you can find the perfect balance between study and hobby.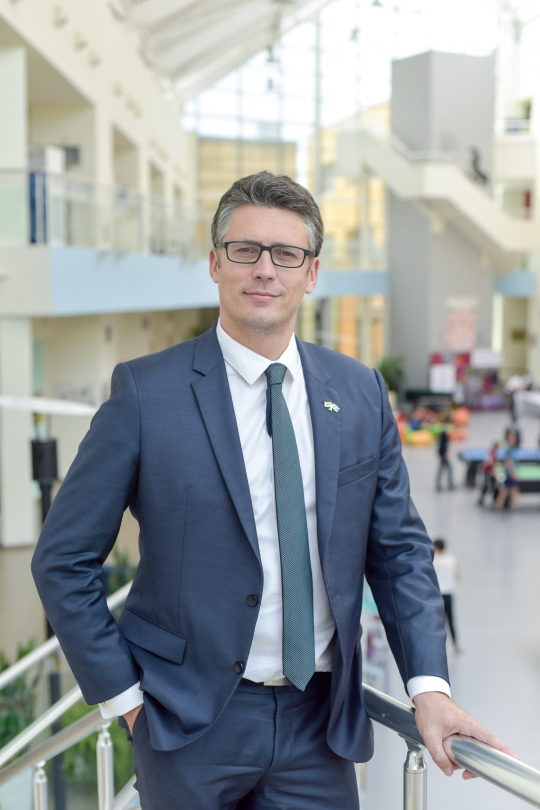 John Coles
Acting Headmaster
Haileybury Almaty creates special conditions for the development and education of children aged 4 to 18 years. In addition to academic lessons, pupils attend various co-curricular activities.

Pupils study the A Level for the last two years to have an opportunity to get into the leading universities of the world, including Ivy League. This is a two-year course of narrowly focused preparation for entering world universities. A Level is the final stage of the secondary education in British schools. After graduating from the A Level program, pupil take exams, the results of which are recognized by all British universities. Erzhan Kabdykayirov will soon pass exams to receive this certificate.

In 2019, 60% of Haileybury graduates got the highest possible score (A*/A) and 26% of them got A*. This is the best result in the history of A Level exams since the school opened. STEM based subjects of Chemistry, Biology, Mathematics and Computer Science that Erzhan is studying now have achieved highly.

John Coles, the Headmaster, affirms that these grades are the result of hard work and determination of pupils and dedicated teaching staff. 'We have been successful in obtaining places at elite universities across the globe', the Headmaster adds.
Hobby that defines goals and ideas
We used to live under the slogan 'From each according to his ability, to each according to his needs', socialism and stuff. A person graduates from school, then goes to college r. Then the work comes approved at several levels of the hierarchical ladder. Work, as a hobby, and a hobby is something between work and duty. There is nothing like that anymore. Now the young generation has the whole ocean of opportunities and choices. It's not just about work or hobbies. The thing is growing minds can choose whether to focus on the 'work of a lifetime', or treat it just as a hobby. Erzhan, for example, chose robotics. Judging by his attitude, he will be connected with it for many years. In this case, robotics has not only defined his goals, i.e. to enter a prestigious university for a proper course, but also has given an answer to the question "How to achieve success and make the world a better place? Using robots." This hobby is quite rare, even for generation Z, but this is only true in Kazakhstan, as robotics is super popular around the globe. Erzhan realized this by taking part in the First Global Challenge international competition.
When I was in Y9, I was attending Olympiad programming lessons. I then started wondering how all this works. Our teacher Nurdaulet Dosmagambet, who is now our mentor in competitions, invited me to the robotics club.
I met my team at the NIS club.
The First Global Challenge in Dubai was not the first international competition in robotics for me. We have traveled before, for example, to the USA. Even before I joined the team, the guys from NIS took various places, the last time being the ninth. This year we were the third. It was difficult to fight with teams from Italy, Israel, the United States.
We can say that the NIS club is one of the pioneers in modern robotics in Kazakhstan. At Haileybury, I am supported by both teachers and classmates. My family, of course, is very thankful for everyone.
The First Global Challenge is a competition game. 'Ocean Opportunities' was the theme of this year. Our team represented the cleaning robot.
The First Global Challenge, in which Erzhan's team took part, is an international robotics competition. The team from Kazakhstan became one of the 186 participants and took third place. More than 2500 young technicians, engineers and programmers demonstrate their achievements at the event every year. More than 800 volunteers take part in the organization, 60% of all participants are girls.
Values that can change the course of the game and improve the world
The world has changed indeed. Do you know how? The values of young people have changed. No, of course, the ideas about a family, a prosperous state and world peace have not gone away. They simply have transformed and amended. Generation Z changed the vector, it became a little more selfish in a good way, which is quite normal. Greta Tunberg, a 16-year-old girl from Sweden, does her best to have local beaches cleaned up and promotes an eco-friendly future. Such stories with young people will soon become ubiquitous, which is also normal. Similar examples change the rules of the game in this world. This is a Z-game for them for now, but then they will have a real-life, where ideas about a high-tech and green economy will need to be implemented. Erzhan, for example, is ready for such changes if ideas are powerful and relevant.
Also read: Zhaniya Murzalina, a pupil of Haileybury Astana: environment and economy are interdependent.
According to George Orwell ('1984') or the creators of the 'Black Mirror', technology can be used in a totalitarian environment to manage opinions, monitor and control. Aldous Huxley's 'Island' about a utopian society is the antithesis of '1984', where technology is used for the good.
Robots are designed to make life easier. The etymology of the word comes from the Czech word "robot", which obviously means "work." Robotics studies technology and creates new gadgets that help people in their lives and work.
The theme of the First Global Challenge 2019 is the environment of the oceans. I know this is very important. I try to save water; I do not throw garbage anywhere. I understand the full responsibility of the situation.
The example of Greta Tunberg is indicative. We, young people, should live in this world; therefore, we should also solve global problems such as the environmental situation. Some kind of consensus should be formed with the support of the government of all interested countries.
I actually think that a good idea is worth standing up for. Say, the widespread introduction of robots. Now they can replace waiters, for example. However, this should be done correctly so that people are not left without work. This is one of the important issues of robotics.
Erzhan got a scholarship from Haileybury Almaty School that has been adhering to the principles of holistic education for more than 11 years. This stimulates the mental development of pupils. Haileybury pupils learn the value of community and service. A Haileybury education is open-minded and forward-looking but it also draws on its rich heritage. It is an education that provides pupils with a moral compass; it prepares then for the very best universities and for life as successful global citizens.
Tastes are instilled by culture and reflection
It is certainly inappropriate to argue about tastes in 2019. We should talk about tastes, about the objects of pleasure, lust, subjectification and objectification. There is absolutely no problem with Generation Z in this regard: tastes correspond to values, values correspond to tastes. A bit of healthy egoism, a bit of reflection, a bit of optimistic protest, a bit of eco-friendly statements and a lot of comics. Yes, mass culture lays down the rule, but if previously people would randomly grab everything just because of short supply, now young people have freedom of choice, and they choose wisely. Yet, paradoxically, generation Z has more free time, because devices save minutes. Erzhan, for example, can find time for study, spending time with friends, and designing robots.
I am a music lover and listen to what I like depending on my mood. I do not read books often: the last book I read is Bulgakov's 'The Master and Margarita'.
I think I am an ambivert, which means I am neither an extrovert nor an introvert. Robotics do not restrict my social life, because I have many other hobbies. I really like the friendly atmosphere at school.
I am fond of tricks. I showed several tricks on the way to the First Global Challenge, the guys liked them. I keep in touch with some of them on social networks.
If to exclude the robotics from my life, I will have mathematics and more free time. I would probably meet my friends and have fun more often.
I watch TV shows, dramas, thrillers in the evening. Now I'm watching the new season of "Mr. Robot." The last film I saw is "The Joker" with Joaquin Phoenix and I really liked the film.
By attending CCAs at Haileybury Almaty not only can Erzhan design robots that help in everyday life, but also develop holistically. CCAs strengthen the sense of social responsibility, instill confidence and taste, foster culture.
Quick round of questions with Erzhan Kabdykairov
Terminator or Robocop? Terminator is cooler.
Marvel or DC? Marvel is more popular, but I really like Christopher Nolan's Dark Knight trilogy.
Heath Ledger or Joaquin Phoenix as a Joker? Heath Ledger for sure. But Joaquin Phoenix was also good!
Meeting with President Nazarbayev or Elon Mask? With Elon Mask, but then with President Nazarbayev.
Who is your idol right now? Elon Musk.