"Every year 97-98% of our school graduates enter the world's top universities" - comments Simon Mills, Headmaster of Haileybury Almaty.
More and more Kazakh applicants from the top schools in the country, Haileybury, are becoming students of the world's top universities. What makes them attractive to the Ivy League and Oxbridge universities?
The fact that the number of our graduates receiving offers from the world's prestigious universities is increasing every year is no longer a surprise, but it is rather a trend and Haileybury Almaty School, opened in 2008, is one of the founders and drivers of this trend.
In 2021, the school's university destinations include, among others, Yale, MIT, Cambridge, and Columbia University. This is even more impressive since the world (including schools, and universities ) is experiencing unprecedented, disruptive and questionable times due to COVID.
"To be objective, it is best to talk about success in numbers. So, according to statistics, every year 97-98% of our school graduates enter the world's top universities" - comments Simon Mills, Headmaster of Haileybury Almaty - "the remaining 2-3% are young people who have decided to take a gap year to pursue their business projects or to do some volunteer work".
For example, last year, Haileybury Almaty graduate Andrew Choi was admitted to the world renowned Imperial College in the UK but decided to take a year off to aim for his dream university. This year Andrew received an offer from Cambridge University. Moreover, even after the young man had already left school, his teachers and counselors continued to support him at every stage. The school helped him with a personal application, as well as preparing for his exam and final interview, which required specialist knowledge and experience.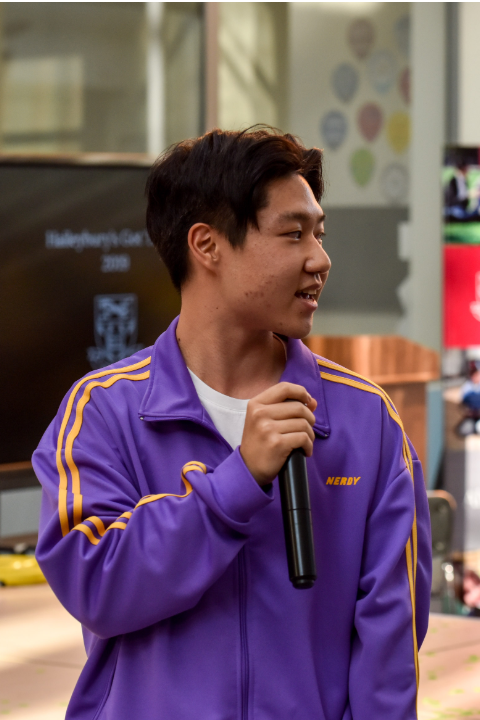 "My Senior school physics teacher was a Cambridge graduate, Mr Jacoby," says Andrew. "So when I decided to go to Cambridge, I often talked to him. We figured out areas of physics and mathematics that are my weakest. Then, we worked on them. And, of course, he taught me how to use my strengths.
So when I applied, I tried to think the way Mr. Jacoby taught me: in a creative way, even in the exact sciences. At the same time, it is correct to solve the assigned tasks effectively under stress conditions. Thanks to these skills and the support of the Haileybury Almaty team, I was able to answer confidently all questions during my interviews with the University of Cambridge".
The ability to choose
The confidence instilled by the school which gives students the belief that they always have a choice and alternatives is a significant factor in makingHaileybury Almaty pupils such successful applicants.
"It may seem that our school's sole aim is to get your child into a prestigious university. In reality, this is just one piece of the puzzle," explains Simon Mills. "Studying at university is not something everyone should do. For example, a young person may want to pursue his or her own start-up and eventually become an equally successful, happy individual.
To do this, at Haileybury Almaty, a student will be taught to think independently and choose. To choose from different options. Many university faculties are not focused on a particular specialty. Having started to study at such a faculty, the student is able to make a decision and transfer to the specialty he/she is really interested in. In addition, general education disciplines make a person's personality and knowledge more flexible and teach them to take an interest in all aspects of modern professional reality. This can be a big plus for your future career".
Kazakh graduates from Haileybury enter the world's leading universities every year. Moreover, about half of the children who have studied at Haileybury Almaty since Year 1 enter top universities on a scholarship basis.
Right from the start
It is clear that Haileybury Almaty has much to be proud of. The offers received by the school's alumni from Cambridge, MIT, Yale and Columbia University this year testament to the productivity of its entire team. To be equal among the students of universities whose graduates include Isaac Newton, Charles Darwin, George Bush, Bill Clinton, Kofi Anan, Jerome D. Salinger and Stanley Kubrick is the privilege of the few applicants who have earned it through their dedication and talent.
"Universities are ranked annually. Among the latter Oxford and Cambridge are unchanged. Although this year our graduates were more interested in the top universities in North America" - Simon Mills, Headmaster of Haileybury Almaty
"My interest in top universities started with my teachers' belief in me" - Andrew shares his story - "In Senior School, my teachers began to emphasise to me that my consistently high grades give me a reason to claim the attention of the world's top universities. In addition, Haileybury Almaty encouraged my interest in sports and extra-curricular activities made me more creative. In short, I decided to give it a try.
At first I thought about Oxford. Then I realised that I was closer to Imperial College and... Cambridge! So when Imperial College responded, I thought I am glad, but would still risk going to Cambridge. A year later I got an offer from the university I'd really been dreaming of. Now that's a win for sure! And the next step is to become an engineer, creating my own successful company. I don't know how I will achieve that yet, but my goal is to be a successful CEO like Elon Musk."
A deliberate choice is when an applicant is guided not only by the high-profile name of the university or its high position in international rankings, but relies primarily on the features of his future profession. That is another feature of Haileybury Almaty graduates.
Knowledge of foreign languages is also crucial. The next most important point is the student's academic performance. It has to be flawless to get into the best universities. Then come each student's extracurricular activities, hobbies, volunteer and social work.
"I can't single out one thing; everything in the admissions process happens for a reason," Andrew says, "But the interview with representatives of the university turned out to be the most exciting thing for me. Without the preparation that the Haileybury Almaty mentors gave me, I don't know how I would have coped. And, of course, waiting for the results - whether you entered or not - is an equally exciting part. Was I nervous? Absolutely!"
Simon Mills explains the formula for success at Haileybury: "Why Haileybury Almaty? Whichever university your child chooses, whatever brilliant future for him or her you dream of by starting to study here you choose not just a school where English and the basic disciplines are taught at a high level - we teach children to see the world as multifaceted, to have their own point of view, to defend it in civilized dialogue - skills that are in demand in today's society, including at the world's top universities."
Haileybury Almaty offers a wide range of support for applying to universities in the UK, USA and Canada.

Pupils who are applying to universities in any country have access to specialised advice and counselling so that they make the best choices possible. Haileybury Almaty ensures that every student has the opportunity to take advantage of all the support they need when it comes to testing, essay writing, financial aid applications and interviews which also includes support for specialised university entrance examinations (eg. Oxbridge).

All of our pupils have the opportunity at Haileybury Almaty and Haileybury Astana to develop both socially and intellectually through a variety of activities overseen by our highly qualified and dedicated staff. These include:
Model United Nations and the Debate Team

The Duke of Edinburgh International Award

Athletic competitions with other top schools in Central Asia

Career guidance and life skills training

Peer mentoring and community service

Student government and opportunities to develop leadership skills through the House System
Haileybury Almaty is partnering with the university consulting service
World's TOP Universities
which helps pupils to gain entry to the world's most competitive universities including Oxford, Cambridge, Russell Group universities and the Ivy League in the USA.