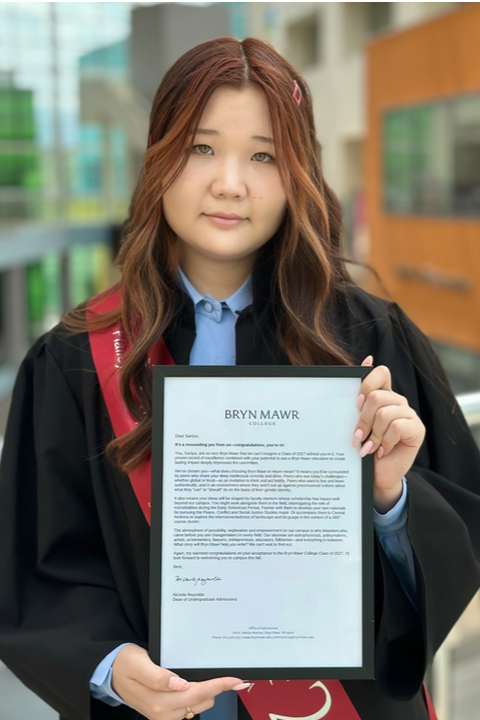 Saniya received $800.000 + in scholarships, offers from Bocconi, KAIST, HKUST, HKU, Bryn Mawr.
Haileybury Almaty is proud to announce the exceptional achievement of Saniya in her university applications this year. With her impressive academic credentials and remarkable achievements, Saniya has secured full scholarships at top universities across the globe.
Saniya has been offered a full scholarship to study economics and technology at Bryn Mawr College in Pennsylvania, one of the top liberal arts colleges in the USA. This scholarship is worth about 300,000 USD and is a testament to Saniya's hard work, dedication, and exceptional academic prowess. Bryn Mawr College is ranked 31 in the USA and is a springboard for high-level graduate universities or jobs.
In addition to Bryn Mawr College, Saniya has also been awarded full scholarships to study at Hong Kong University of Science and Technology and Hong Kong University, each worth over 120,000 USD. She also has the option to study at Bocconi in Milan, Italy, with a full scholarship.
Saniya's remarkable achievements in securing these scholarships demonstrate her academic excellence, hard work, and determination to succeed. We are proud of her accomplishments and wish her all the best in her academic pursuits and future career in the FinTech industry.
We congratulate Saniya on her exceptional achievements and wish her all the best in her academic journey. Haileybury Almaty is proud to have played a role in her academic success and we look forward to hearing more about her accomplishments in the future.