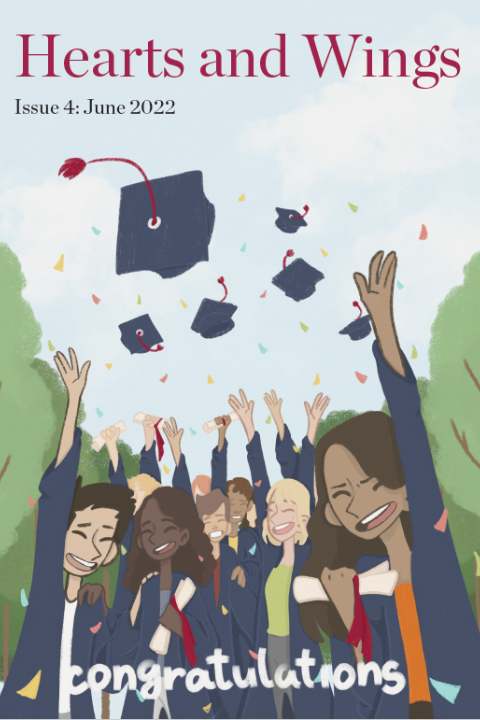 "Hearts and Wings" Fourth Issue
We are pleased to announce that the June issue of Hearts and Wings has arrived. The last term of this academic year has been full of exciting activities and events that have taken place in Kindergarten, Junior School and Senior School. Our talented pupils covered the most prominent stories that shaped this term.
The editorial team dedicated the last edition of the beloved magazine to the Year 13 students. The leavers shared their feelings, thoughts and aspirations with the readers. Moreover, you can find useful information and advice from the last cohort.
This issue also features a column of Naira, a Year 12 student of the IB Diploma Programme, who was a part of the organising committee of the TEDxYouth@HaileyburyAstana conference. She described the challenges the crew faced and shared her views on the presentations of the speakers.
Mental Health Awareness campaigns take place several times throughout the whole academic year. You can find more information about the activities that were carried out in the school in the column written by Begim-Ana, a Year 12 IB student.
The Transition Day aims to support our children in making a seamless transition from Junior School to Senior School. Claudio, a Year 7 pupil at Haileybury Astana, gave insights into the life of Senior School.
In this edition, our incredible team of Senior School pupils have prepared articles on the key topics such as:
TEDxYouth@HaileyburyAstana

Mental Health Awareness Week

Just the Beginning

Transition Day

World News
Featuring contributions from:
Writers: Editor: Cover Illustration: Design: Photography:
Begim-Ana Aniya Anara Naira Maria
Claudio
Korkem-Ay
Naira
We would like to express our gratitude to our Senior School pupils for putting together this excellent piece of writing. And special thanks to Mr Daniel Bell, Year Thirteens and Year Sixes for their interview responses and support.
If you would like to download a copy of the issue, please click on the link below.