Congratulations to Maheli on his successful acceptance to the University of Amsterdam, Netherlands; Goldsmiths, University of London, UK; University of Lincoln, UK; Royal Holloway, University of London, UK; Queen Mary University of London, UK. He shared with us his success story.
Maheli shared with us his success story and gave valuable advice to those who are just at the beginning of their applications process.
How did you choose universities and prepare for the exams?
To be honest, the application process was quite difficult because I didn't know what I wanted to study first. I first wanted to study sports management but I realized after some discussions that it was not the right fit for me. As soon as I wanted and showed an interest in political science, I decided to make up a "university criteria". I based these criteria on the distance from Kazakhstan, the entry requirements and the ranking of the university in political science. I then made a mindmap, including all parts of this criteria.
This allowed me to narrow down my choices to 4 universities in the UK (Goldsmiths, Royal Holloway, Lincoln and Queen Mary) and to 1 in the Netherlands (University of Amsterdam). This research was also strengthened by the fact that I regularly went to online webinars discussing life and how it was like to study in those universities. In order to prepare for exams, while finishing IAs and coursework, I made a revision timetable so that I am more organized, less stressed.
Combining this organization with hard work and critical thinking gives you a fruitful application and good grades as an end product!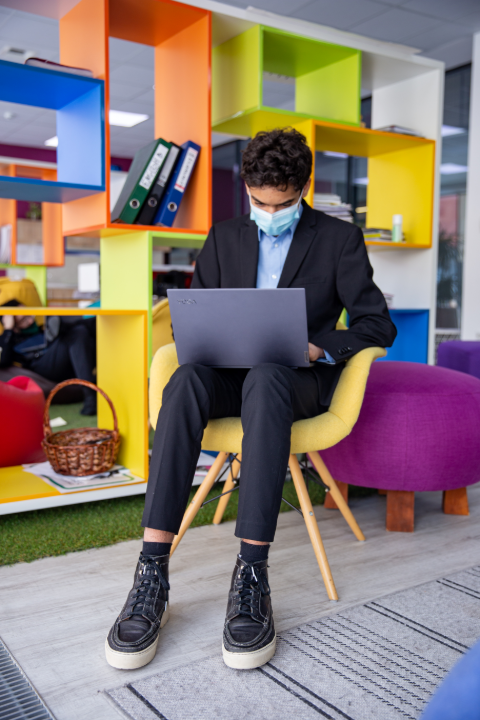 What are you going to study at the university?
I will study political science at university. Nevertheless, I initially wanted to do sports management. However, after some discussions with my university counsellor and my parents, I decided that it wasn't the right fit for me. Afterwards, I followed the advice, which was to rely on my qualities and my interests. As I saw that I was interested in the world's politics and that I was a good public speaker, I decided that political science was actually the right course to do for me, a thesis that was confirmed by my university counsellor.
What kind of support did you get from your teachers?
There are many individuals that gave me support, which I would like to thank. First of all, I am very grateful towards Mrs Williams because she forced me to think outside of the box and to search universities and what each course really covered because making a decision. This paid off as I am very happy to have changed my mind about political science.
Furthermore, I would like to thank her because she put in a drastic effort to find the time to have meetings with me to discuss my choices and to help me edit my personal statement, essential to get into university. I am also very grateful towards my parents because they helped me to understand what steps were needed to apply and what was needed to make an outstanding personal statement (by scheduling a meeting with my counsellor for instance).
Besides, my parents drastically helped me in organizing a table containing the university choices, the countries where I wanted to study (The Netherlands and the UK), the requirements and what the political science course consisted of. Consequently, my mind was more organized and I could draft my personal statement and my CV more easily. I would also like to thank Mrs Fraser for the support she provided me because she advised me about UK universities and gave me some extra tips to improve my personal statement.
What would you advise those who are just at the start of their university applications process?
In order to have a successful university application process, you need to be very organized. Indeed, I would advise you to search what the course really consists of before making a decision. Once you made your decision, you need to be very well organized.
Indeed, I would advise the future Y13 and university applicants to make a mind map where there should be the university choices, the entry requirements, what the course consists of in each university and the application deadline. That way, you will have a much better insight into what to expect and into what you want to study.
Afterwards, I would advise you to make a small university application timetable to keep track of the important deadlines. On the other hand, in class, I would advise you to work hard and to the best of your abilities so that you get the grades that are needed for your favourite university.
Another important factor to take into account in the application is time because many applicants around the world might have the same dreams as you and might want to study in the same universities. Therefore, as soon as you have got your personal statement drafted and edited and your grades, apply. As the phrase says, the earlier, the better.