Congratulations to Zhanerke Zhumash on her successful acceptance to the University of British Columbia (UBC). She is one of 50 people worldwide who has received the International Scholars Award(ISA) from UBC, which covers the full tuition and living costs in Canada.
Haileybury Astana graduate was kind enough to talk about finding the right balance between mental and physical health, choosing the right university and dealing with stress in her final year.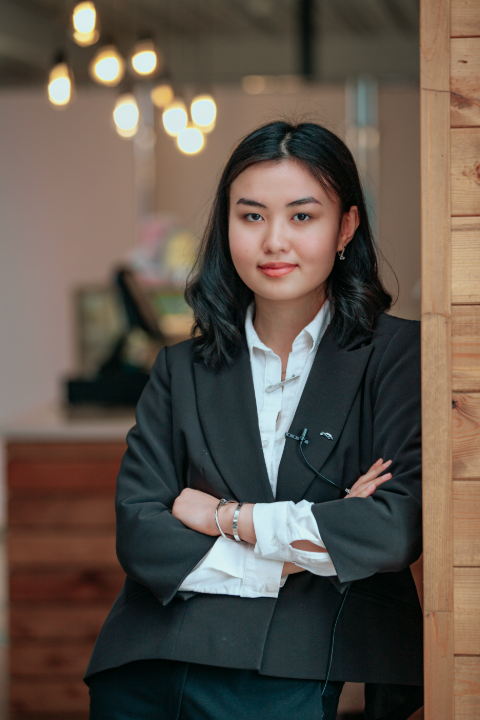 "During my IBDP studies, it has been a priority for me to find a balance between my mental and physical health, academic and social life. Even though I am not into meditation, I tried to do yoga and short tabata workouts regularly. Besides that, long walks outside were also helpful to organize my thoughts, goals and ideas for the future.
I have not been the most social person in the cohort, however, I tried to hang out with my friends once a month. It might feel lonely at times doing the coursework, however, that was a good thing for me since spending time with myself facilitated my growth and development as a person much faster. But friends are important to have someone you can relate to and ask for help when needed in academics.
IBDP has taught me that whenever you are embarking on any project, whether it is personal or academic, time management is always a key in achieving your goals, even though I had some troubles with it in my first year. On a daily basis, someone can use Google Calendar to time block their activities. This really helps visually and saves a lot of energy. I am thankful for IBDP for accelerating the process of me becoming independent and mature enough to handle daily problems on my own, which is also a bonus for the upcoming university life.
To not miss any deadlines, I would recommend breaking down big tasks into smaller tasks to minimize stress. If certain tasks still seem to be big after breaking them down, you haven't done it wisely, so I would recommend breaking them down even further to avoid procrastination in the future. Our brain perceives and processes things much better when activities require lower time consumption.
Moreover, I would not say that I struggled a lot during MOCKs in January since I dedicated most of my time in summer 2020 to starting or completing my IBDP coursework and university essay outlines. This saved me a lot of time in my second year to prepare for my exams.
Finding a university that fits your needs is the most crucial thing while creating a list of universities. It is important to have a wise list of dream, reach, and safe universities, otherwise there is a risk to be rejected from everywhere and not have safe options.
Personally, I wanted to live in an urban area with nature (like in Almaty), which is evident from the skyscrapers in Vancouver encapsulated by mountains and the Pacific Ocean. Moreover, it is a big campus with many people with different backgrounds, with whom I can make connections and create a network. However, class sizes in my program are small just like in Haileybury, about which I am pleased. UBC also ranks first in Canada and top 50 in North America for research contribution. This was important to me since the tech industry captivated me since I was a child.
I am one of 50 people worldwide who has received the International Scholars Award(ISA) from UBC, which covers the full tuition and living costs in Canada. UBC's acceptance rate might be around 50%, but ISA has only a 3.5% acceptance rate internationally.
To answer your last question, when things get difficult, you have to take a deep breath, turn on your favourite playlist and start listing all of your tasks. Listing every deadline and daily task on a google spreadsheet always made me stay on top of things. After that, dedicating time slots for every task and prioritising them on your Google or Outlook or Apple Calendar should be also highly considered.
To deal with stress many tend to overeat and acquire bad habits, which then undermines their health and mindset. In times of dealing with hardship, I recommend students talking to their family, friends, watching a comedy, going to the park and eating healthy. All of these things will trigger positive hormones in their body, which will biologically hack their brain to think positively and make them want to work harder and more efficiently."