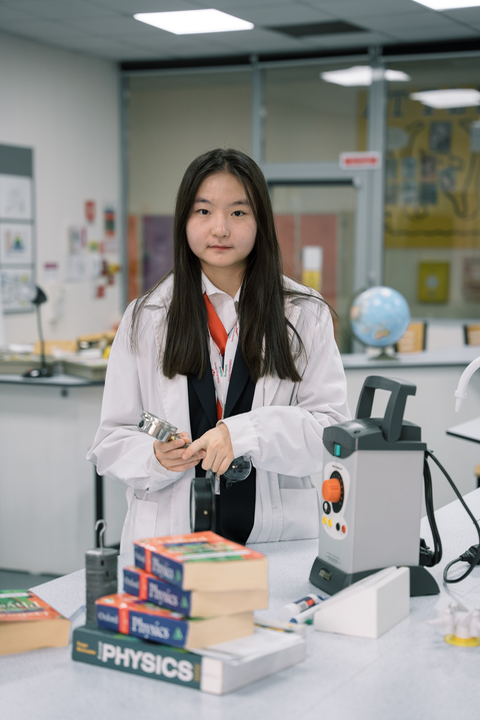 Congratulations to our amazing students, Ruihan and Mereyli, for their outstanding achievements!
They have been awarded prizes from COBIS in recognition of their fantastic contributions to our school community.
Ruihan, a highly motivated Year 12 student, has consistently excelled in her academic pursuits and made remarkable contributions to our school. She is not only an exceptional musician, having participated in numerous school concerts, but also a compassionate individual. This academic year, Ruihan organized the Asyl Miras Charity initiative, urging our fellow students to write heartfelt letters to children at the Autism Centre. In addition, she took the initiative to organize a visit to Asyl Miras, where she delivered the letters along with some toys for the kids. Ruihan's commitment to well-being is also commendable, as she actively participated in the Wellbeing committee, helping organize and run Wellbeing week, assemblies, and various activities. Furthermore, Ruihan played a vital role in the Eco Committee and House Leadership Team, actively supporting different house events. Her dedication and passion are truly inspiring!
Mereyli, a dedicated Year 10 student, consistently goes above and beyond in her academic pursuits and involvement in school initiatives. Mereyli is always ready to lend a helping hand, listen attentively, and take a leadership role in events. Alongside Almansur, she has led the Active Hearts CCA, making a positive impact on our local hospital. Currently, they are finalizing plans for a charity event to raise funds for this noble cause. Mereyli has also been an integral part of the House Leadership team for three consecutive years, contributing to the growth and success of our school community. Her dedication and willingness to make a difference are truly commendable!
We are incredibly proud of Ruihan and Mereyli for their remarkable achievements and their contributions to our school. They truly embody the values of excellence, compassion, and leadership. Join us in congratulating them on this well-deserved recognition!