The percentage of our graduates entering the universities that young people around the world dream of is increasing every year. Now this figure is around 97-98%. The remaining 2-3% are children who have taken a gap year to pursue their business projects or volunteer work in the coming year — says Simon Mills, Headmaster of Haileybury Almaty
Our ambition was to see our students enter the world's TOP universities. And within a few years of opening, our graduates began to show excellent results. The first university that Haileybury Almaty conquered was University College London.
Since then, the school annually adds 1-2 of the world's best universities to its list. As of 2021, the list includes Oxford, Cambridge, Yale, Brown, Columbia, Toronto, Hong Kong and many more.
When Haileybury Almaty talks about the best universities, we use reputable ranking systems, such as The Times Higher Education World University Ranking (THE), Quacquarelli Symonds World University Rankings (QS). As a result, there are differences in the position of this or that university in national and international rankings and sometimes these differences are quite noticeable. Also, some universities are ranked based on their speciality, such as Bocconi in Milan, which ranks highly as a business university, but not as a research centre. All this needs to be known, understood and taken into account by the Haileybury Almaty team when helping graduates and their parents make a choice in favor of one or another university.
Gaukhar Alzhanova, a Haileybury Almaty graduate who received an offer from Yale University, shared her success story.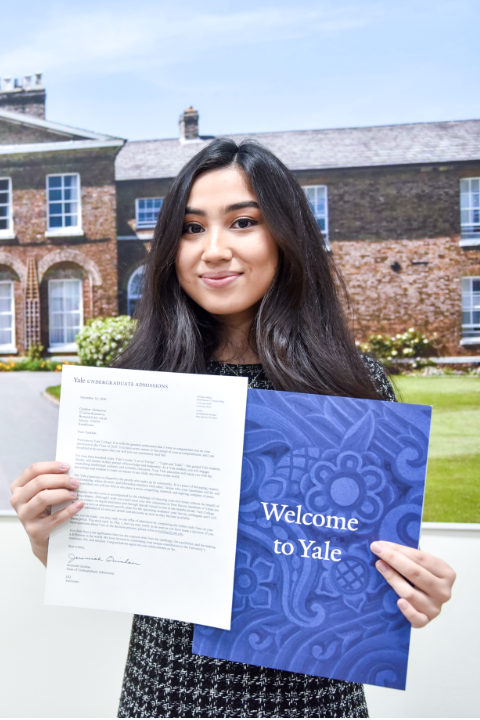 "My parents sent me to Haileybury Almaty 13 years ago. They were attracted by the idea that their child would receive knowledge entirely in English, and upon graduation from school their child would receive an international diploma, which would open doors to the most prestigious universities around the world, and I began to think about admission itself before starting my studies in Senior School.
The fact that I received an offer from Yale University was and is the merit of my Haileybury education. After all, it was here, in addition to the international IGCSE and A-level curricula, that I was taught to do charity work, given the opportunity to participate in the British Science Olympiad and take a pre-university course in engineering. My teachers supported me in my choice and provided excellent guidance, which is so important when applying abroad. In addition, representatives of the school helped us edit our essays, fill out applications for universities. I think this combination of factors led me to my dream - to eventually become a student at one of the world's best universities"
We are proud to share with you 3 publications about Gaukhar's success in different media: