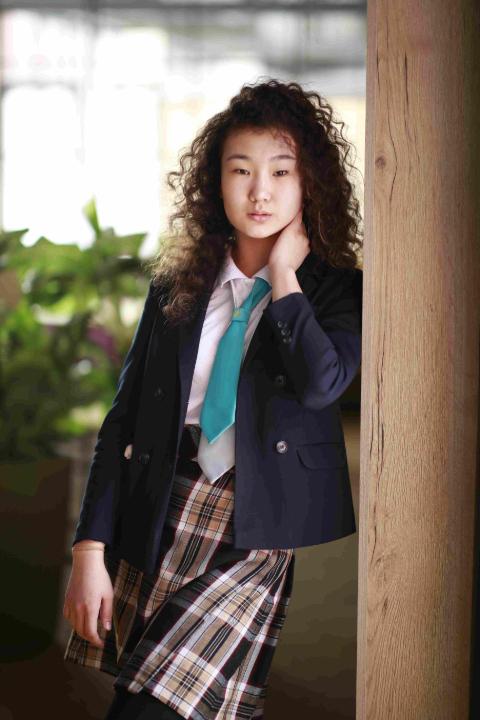 When did you start to dance?
I started dancing when I was 7 years old, in 2016. At that time, I never realized that I will be doing dance sport for so long and I have never seen myself standing on a high rank of the sportsman of Kazakhstan in dancesport. I didn't even have hope that I will be presenting Kazakhstan in the CIS championship. Being a part of this sport for already 7 years, taught me a lot. It taught me how to communicate with people, how to be disciplined, respect your fellows, face courage, being independent and the most important is to be resilient.
How did you understand that dance is your passion?
I understood that dancing is my passion because I feel as if I belong there. The Dancesport society perfectly fits for me. What I really love about dancesport is that it's the only sport that is not only about physical actions, but it also has a connection with arts, music and elegance. The gorgeous dresses that are covered in gems, the elegant costumes, tailcoats that men's wear, the stunning hairstyles and makeup. Make sport dance an aesthetic sport. It takes a lot of training which is physically hard and equally mentally hard. Sport dance is teamwork where two people with opposite genders have to work and communicate together to achieve the best.
How important is it for you to achieve big results in life?
In my opinion, achieving big results in your life is the best experience that you can ever face or feel. Personally, for me, it is really important to achieve the best results in my life, because it feels awesome when you know that you achieved something in your life and understand that you didn't spend your life uselessly. It is hard to achieve the best result, no one said that it is easy. However, the endpoint will give you the feeling of pride and satisfaction.
What did you learn by doing sports — how does it help you in your daily and school life?
Being a sportsman means that you build your character and the definition of being a professional sportsman means that you are disciplined, resilient, independent, face courage every single day and a person with a strong character. All these habits helped me not only in my sports career but also in my life and equally important in my school life.
What are your plans for the future?
I can't say what exactly will happen in the future, no one ones how the world might turn. The only thing that I can say is, I am planning to achieve all my goals that I set for myself. Some are easy to achieve and for some, I really need to work on.