Andrew (Jaehyung) Choi, Haileybury Almaty graduate 2020, has been accepted to Cambridge University to study Engineering!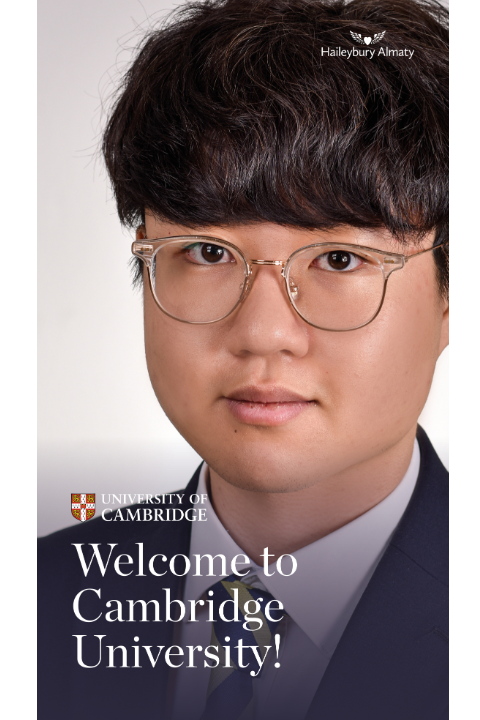 Last year Andrew (Jaehyung) was accepted to Imperial College, but decided to take a gap year and apply to his dream university.
Even after Andrew (Jaehyung) had left the school, our teachers and counsellors supported him on each step, through weekly lessons to prepare his personal statement, to prepare him for the Engineering Aptitude Test and final Cambridge Interview, which all required specialist knowledge and experience.
We delighted to congratulate Andrew (Jaehyung)on his acceptance to Cambridge and wish him a successful future in engineering!
Andrew (Jaehyung) has shared with us his story:
Hi, I am Jaehyung. I am from South Korea and a graduate of Haileybury Almaty. I recently got an offer from the University of Cambridge for the 2022 entry and now I am preparing for the IELTS exam to meet the conditional offer.
While I studied in Haileybury, teachers and staff supported me in various ways to help me finish A-Level successfully. For example, during the lockdown, they did their best to sustain a good quality of education so that none of us would be disadvantaged in the final exams or dissatisfy with their results. As a consequence, most of the sixth-form students were happy with their results and so was I.
To prepare the application for Cambridge, Haileybury helped writing my personal statement, preparing the ENGAA, which all Engineering applicants should take, and interviews. Mr. Jacoby who graduated from Cambridge and is a new Physics tutor taught me how to think creatively and solve problems correctly under pressure. Thanks to his amazing supports, I could confidently answer all the questions during the interviews.
Thank you so much to all staff members and teachers in Haileybury for working hard to give the best education and keep great learning environments for pupils.
Apart from all those help, the most important part is that Haileybury does think about its students. I not only felt that while studying there, but when Mr. Pandya encouraged me to apply to Cambridge even after I graduated. Even though it was no longer his duty to help me get into a better university, he put all his effort to make my application look as good as possible. I appreciated him a lot for writing a wonderful reference and being the best mentor while studying in Haileybury.